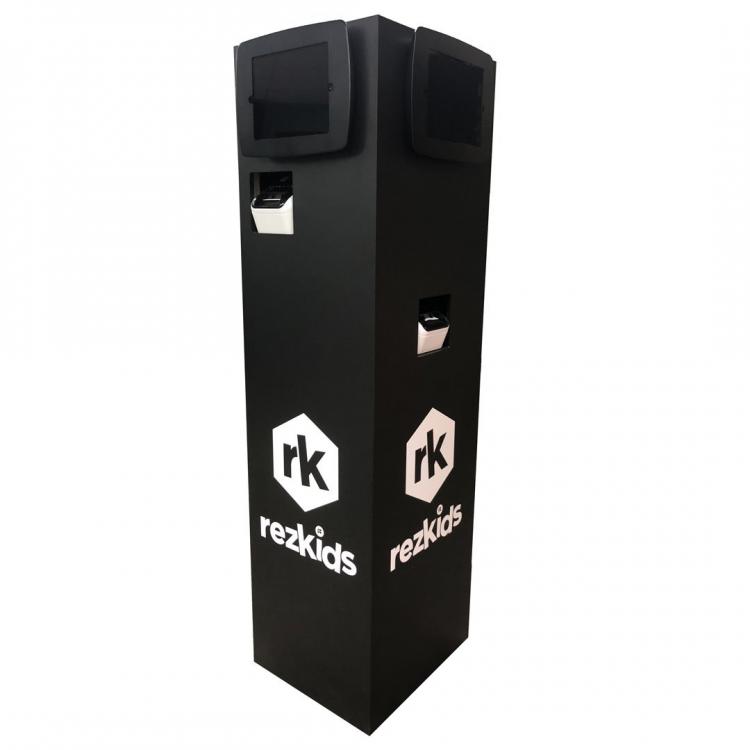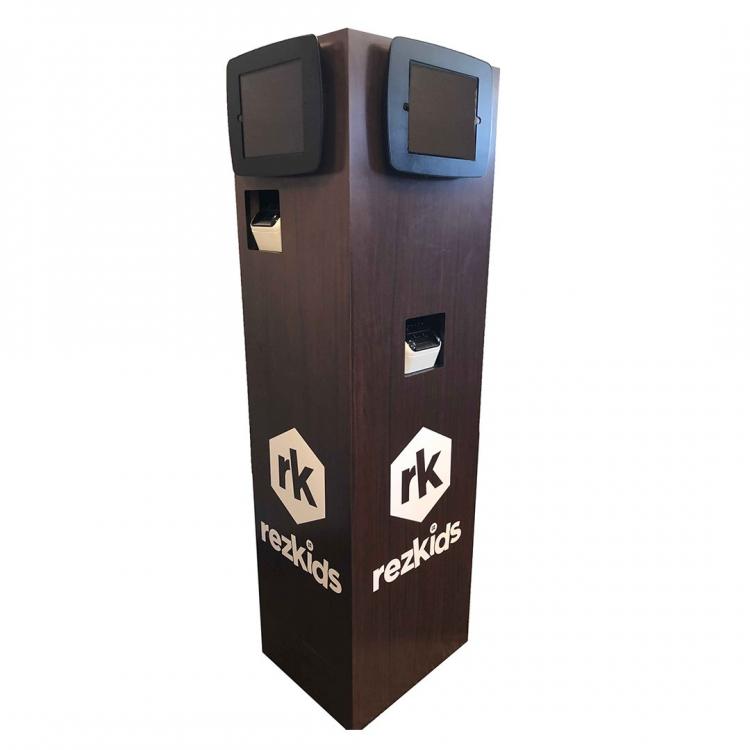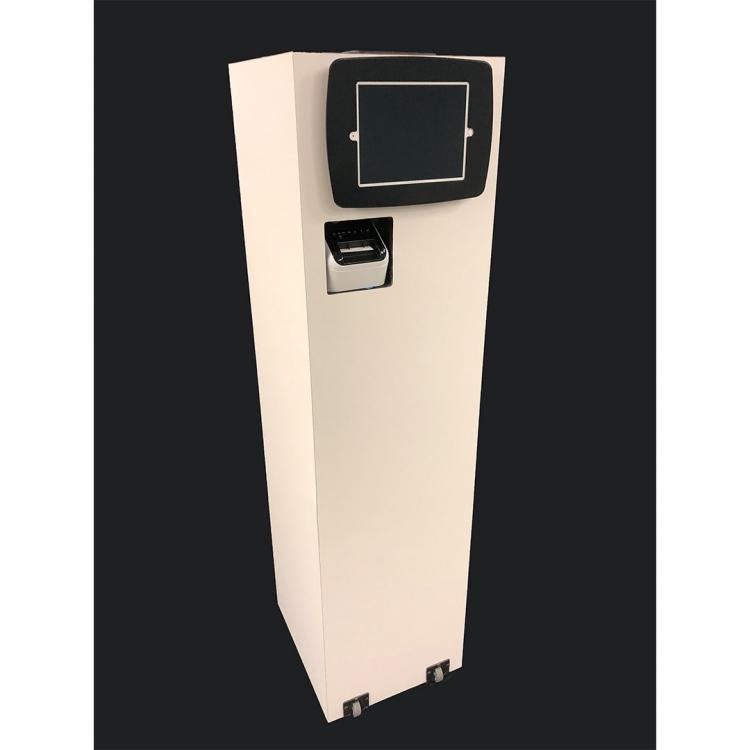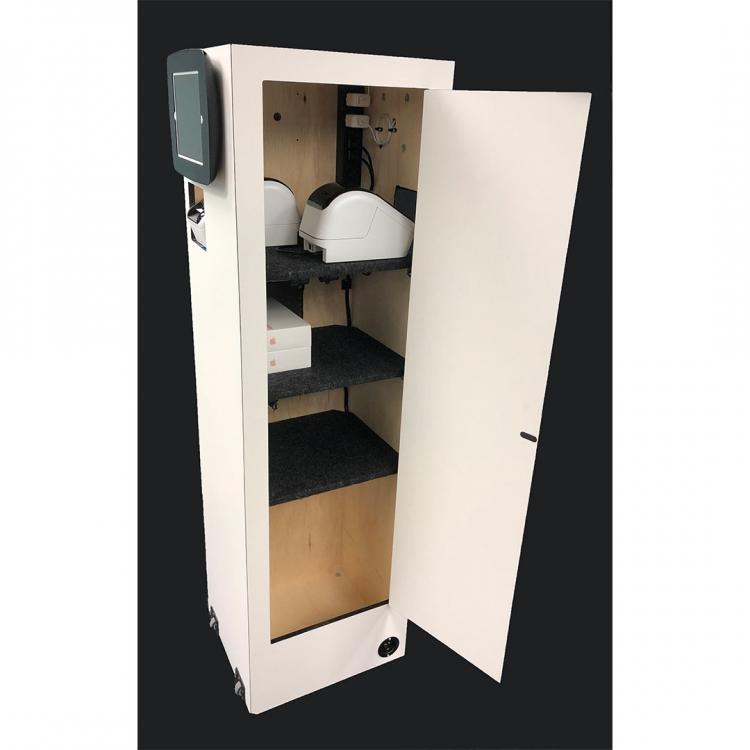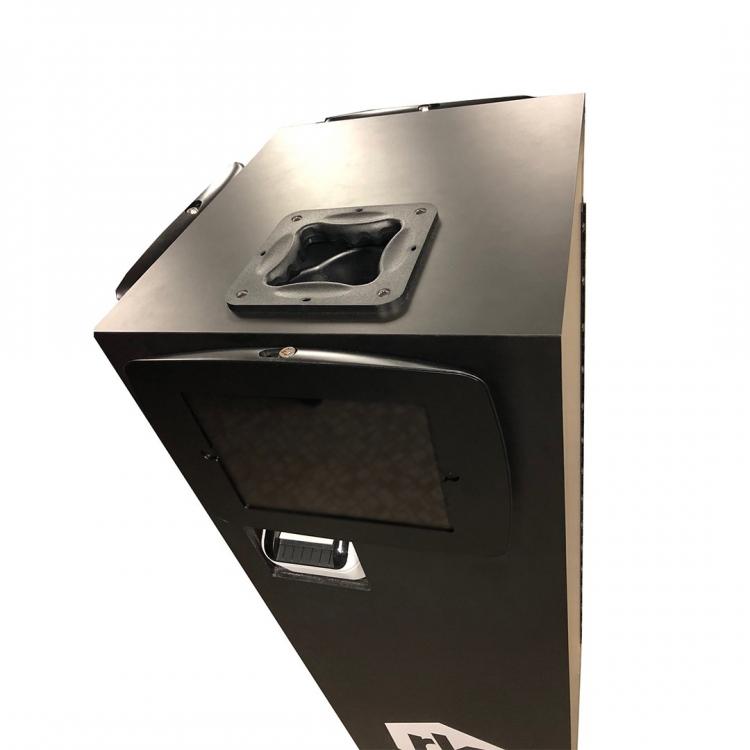 ,

,

,

,

Pricing Breakdown
Overview
Check-in, Tithing, Registration Tablet Kiosk
Simple, elegant and portable... This Tablet Kiosk allows up to 3 people to use it at the same time while only occupying a 15 inch by 17 inch footprint. This kiosk gives the feel of a permanently installed kiosk but, thanks to attached wheels and a handle on top, you simply need only to tip the kiosk and wheel it away.
The basic kiosk comes with the external structure, handle, wheels, locking iPad holders and an electrical inlet with a female plug on the inside of the case.
About
Portable Tablet Kiosk
OPTIONS
Choose the additional options for it to come completely installed and ready to be used!
-Graphics
-iPad(s) - 10.2" iPad 32GB, Wi-Fi Only
-Brother professional label printer(s) with Bluetooth
  **We will need to know the software you are using to ensure we install the correct printer. 
Pricing Breakdown
Single User Tablet Kiosk
| Sale | Quick | Item Number | Description | Price |
| --- | --- | --- | --- | --- |
| | | PTK1 | Kiosk with Locking iPad Mount | $1,429.00 |
| | | PTK1-G | Kiosk with Locking iPad Mount & Graphics | $1,507.00 |
| | | PTK1-GPLUS | Kiosk with Locking iPad Mount, iPad, Printer, & Graphics | $2,042.00 |
Double User Tablet Kiosk
| Sale | Quick | Item Number | Description | Price |
| --- | --- | --- | --- | --- |
| | | PTK2 | Kiosk with 2 Locking iPad Mounts | $1,720.00 |
| | | PTK2-G | Kiosk with 2 Locking iPad Mounts & Graphics | $1,798.00 |
| | | PTK2-GPLUS | Kiosk with 2 Locking iPad Mounts, iPads, Printers, & Graphics | $2,867.00 |
Triple User Tablet Kiosk
| Sale | Quick | Item Number | Description | Price |
| --- | --- | --- | --- | --- |
| | | PTK3 | Kiosk with 3 Locking iPad Mounts | $2,010.00 |
| | | PTK3-G | Kiosk with 3 Locking iPad Mounts & Graphics | $2,088.00 |
| | | PTK3-GPLUS | Kiosk with 3 Locking iPad Mounts, iPads, Printers, & Graphics | $3,692.00 |