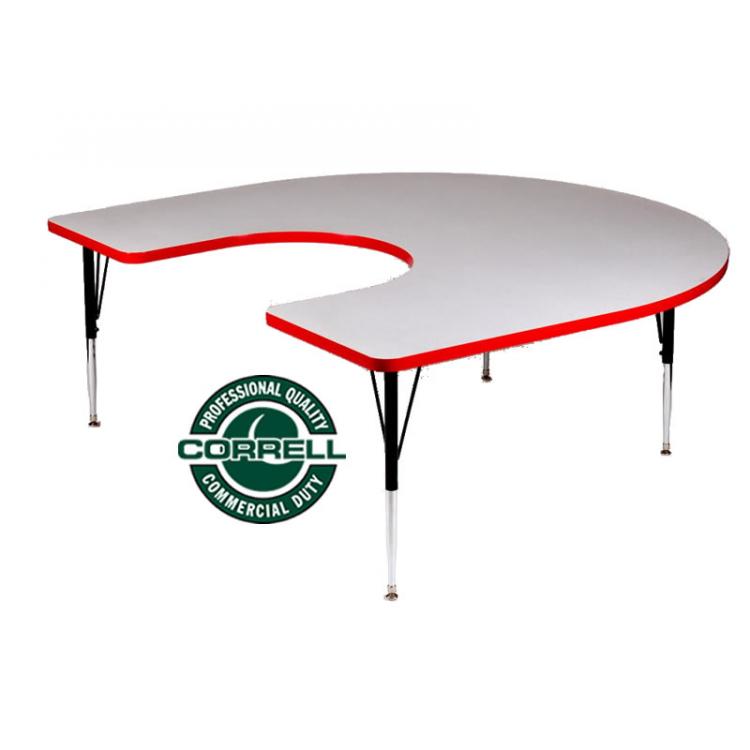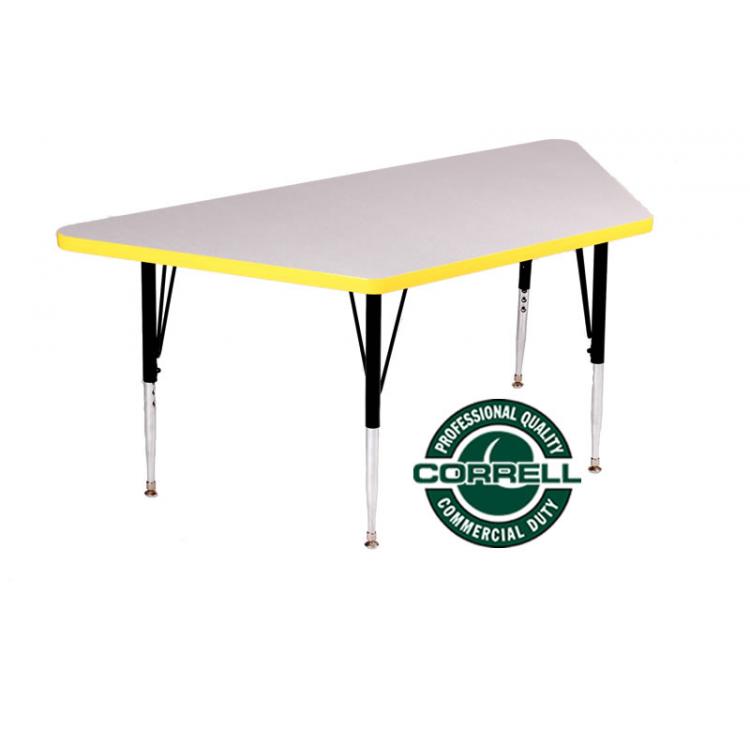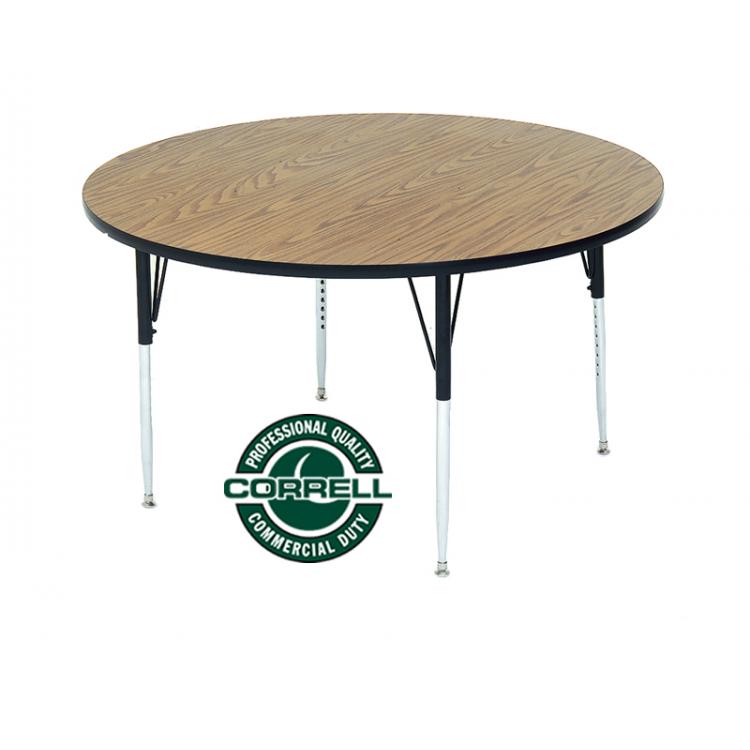 ,

,

,

Pricing Breakdown
Overview
Designed for heaviest school and church use, Correll activity tables meet or exceed specs for all major brands.
1 1/4" thick high-density particleboard top.
High-pressure laminate top resists scratches, paint, markers, crayons, and food and juice stains far better than melamine.
Backer sheet to resist warping, plus extra bracing on larger sizes.
Leg mounting brackets pre-attached with 7 screws. Three additional screws in leg plate, and oversize hairpin brace make this the strongest leg mounting system in the industry.
Shoulder on leg set screw provides an extra margin of safety, even if not properly tightened, making these the safest activity tables you can buy.
Free speed-wrench with every table, for fast, easy, height adjustments.
Choice of black (standard) or silver mist legs.
Universal legs adjust from 19" to 29" in 1" increments.
*Minor Assembly Required
Standard Colors - Black Edge

Walnut

Medium Oak

Fusion Maple

Colonial Hickory

New England Driftwood

Gray Granite

Montana Granite
Savannah Sand

Red

White

Blue

Yellow

Green
Frame Finish Upper/Lower

Black

Chrome
Optional Colors Available - Please Call for quote
Pricing Breakdown
Particleboard Activity Tables - Square/Rectangle
| Sale | Quick | Item Number | Table Top | Shape | List Price | Price(1-8) | Price(9-15) | Price(16+) |
| --- | --- | --- | --- | --- | --- | --- | --- | --- |
| | | A2436-REC | 24" x 36" | Rectangle | $339.00 | $160.00 | $158.00 | Quote |
| | | A2448-REC | 24" x 48" | Rectangle | $349.00 | $165.00 | $162.00 | Quote |
| | | A2460-REC | 24" x 60" | Rectangle | $444.00 | $210.00 | $206.00 | Quote |
| | | A3048-REC | 30" x 48" | Rectangle | $392.00 | $185.00 | $182.00 | Quote |
| | | A3060-REC | 30" x 60" | Rectangle | $461.00 | $218.00 | $214.00 | Quote |
| | | A3072-REC | 30" x 72" | Rectangle | $547.00 | $258.00 | $254.00 | Quote |
| | | A3660-REC | 36" x 60" | Rectangle | $568.00 | $268.00 | $264.00 | Quote |
| | | A3672-REC | 36" x 72" | Rectangle | $603.00 | $285.00 | $280.00 | Quote |
| | | | | | | | | |
| | | A3636-SQ | 36" x 36" | Square | $404.00 | $191.00 | $188.00 | Quote |
| | | A4242-SQ | 42" x 42" | Square | $474.00 | $224.00 | $220.00 | Quote |
| | | A4848-SQ | 48" x 48" | Square | $484.00 | $229.00 | $225.00 | Quote |
Particleboard Activity Tables - Shaped
| Sale | Quick | Item Number | Table Top | Shape | List Price | Price(1-8) | Price(9-15) | Price(16+) |
| --- | --- | --- | --- | --- | --- | --- | --- | --- |
| | | A2448-TRP | 24" x 48" | Trapezoid | $358.00 | $169.00 | $166.00 | Quote |
| | | A3060-TRP | 30" x 60" | Trapezoid | $449.00 | $212.00 | $209.00 | Quote |
| | | | | | | | | |
| | | A6066-HOR | 60" x 66" | Horseshoe | $932.00 | $440.00 | $433.00 | Quote |
| | | A4872-KID | 48" x 72" | Kidney | $801.00 | $378.00 | $372.00 | Quote |
| | | | | | | | | |
| | | A48-OCT | 48" Dia | Octagon | $508.00 | $240.00 | $236.00 | Quote |
| | | A48-CLO | 48" Dia | Clover | $508.00 | $240.00 | $236.00 | Quote |
| | | A60-FLR | 60" Dia | Flower | $791.00 | $373.00 | $367.00 | Quote |
Particleboard Activity Tables - Round
| Sale | Quick | Item Number | Table Top | Shape | List Price | Price(1-8) | Price(9-15) | Price(16+) |
| --- | --- | --- | --- | --- | --- | --- | --- | --- |
| | | A36-RND | 36" Dia | Round | $407.00 | $192.00 | $189.00 | Quote |
| | | A42-RND | 42" Dia | Round | $478.00 | $226.00 | $222.00 | Quote |
| | | A48-RND | 48" Dia | Round | $488.00 | $230.00 | $227.00 | Quote |
| | | A60-RND | 60" DIa | Round | $702.00 | $331.00 | $326.00 | Quote |