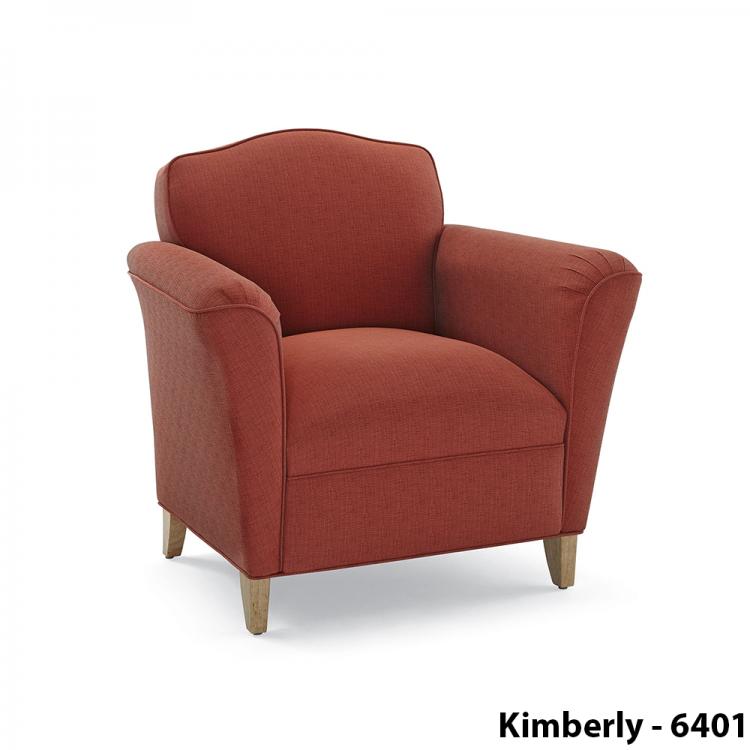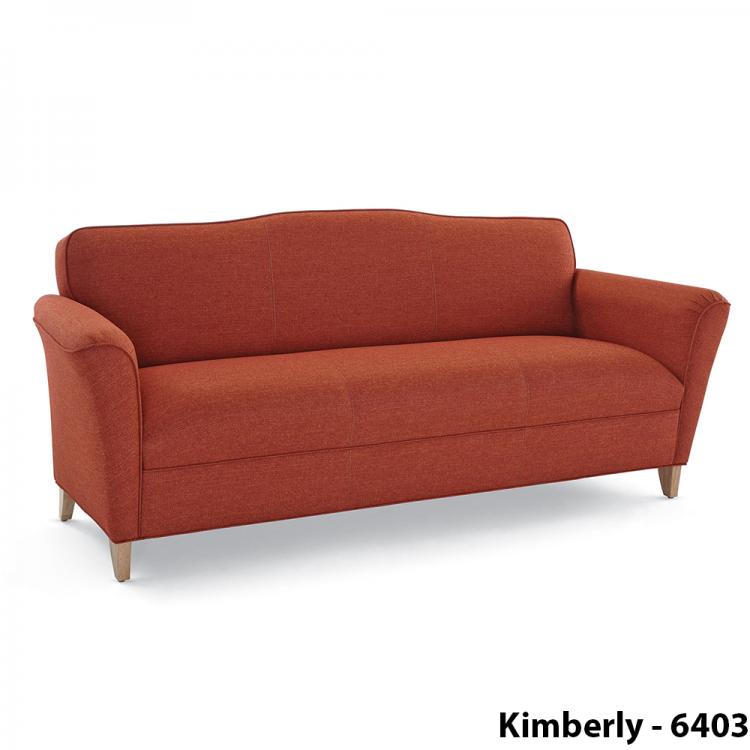 ,

Pricing Breakdown
Overview
Kimberly blends sophisticated form with careful attention to detail. Soft arm pleats and welted design lines present an elegant, fully upholstered reception seating solution that also includes occasional tables. Elegant double-needle tailoring, taut seat, no-sag springs and high-density foam ensure longterm comfort and durability.
The selection of fabrics on the Textile Card PDFs below is only a small selection of available fabrics.  If you do not see something you like please call and we can find something to meet your needs.
If ordering multiple items Please Call for a quote.
Pricing Breakdown
Kimberly Collection - Grade 1
| Sale | Quick | Item Number | Description | Size (WxDxH) | Price |
| --- | --- | --- | --- | --- | --- |
| | | 6401 | Chair | 38" x 33" x 35" | $1,606.00 |
| | | 6402 | Loveseat | 58" x 33" x 35" | $2,117.00 |
| | | 6403 | Sofa | 81" x 33" x 35" | $2,648.00 |
Kimberly Collection - Grade 2
| Sale | Quick | Item Number | Description | Size (WxDxH) | Price |
| --- | --- | --- | --- | --- | --- |
| | | 6401 | Chair | 38" x 33" x 35" | $1,781.00 |
| | | 6402 | Loveseat | 58" x 33" x 35" | $2,335.00 |
| | | 6403 | Sofa | 81" x 33" x 35" | $2,917.00 |
Kimberly Collection - Grade 3
| Sale | Quick | Item Number | Description | Size (WxDxH) | Price |
| --- | --- | --- | --- | --- | --- |
| | | 6401 | Chair | 38" x 33" x 35" | $1,939.00 |
| | | 6402 | Loveseat | 58" x 33" x 35" | $2,521.00 |
| | | 6403 | Sofa | 81" x 33" x 35" | $3,156.00 |
Kimberly Collection - Grade 4
| Sale | Quick | Item Number | Description | Size (WxDxH) | Price |
| --- | --- | --- | --- | --- | --- |
| | | 6401 | Chair | 38" x 33" x 35" | $2,037.00 |
| | | 6402 | Loveseat | 58" x 33" x 35" | $2,619.00 |
| | | 6403 | Sofa | 81" x 33" x 35" | $3,296.00 |