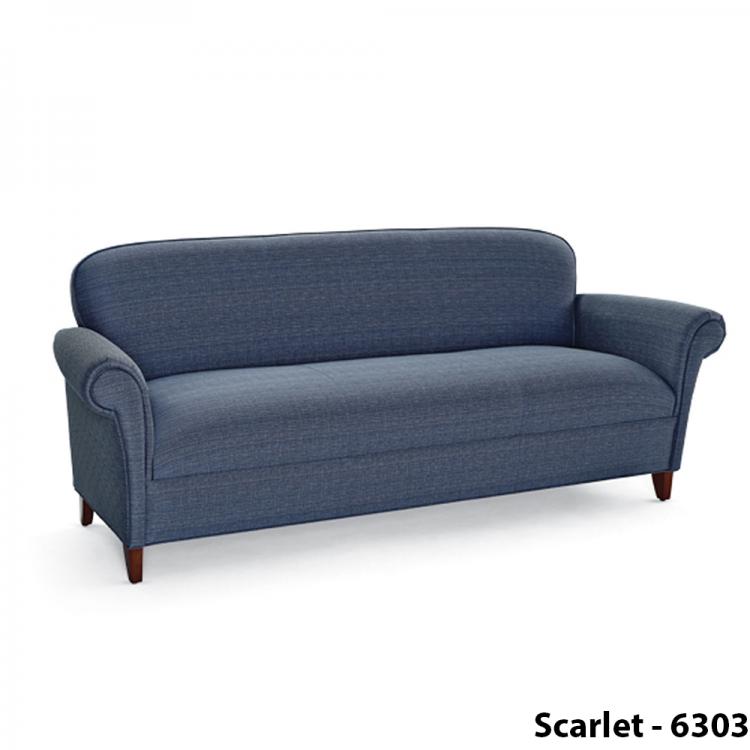 ,

Pricing Breakdown
Overview
From hospitality to healthcare to educational and corporate environments, the Scarlet Collection presents a distinctive scroll-arm design, creating impressive lounges, lobbies, and other sitting areas.
The selection of fabrics on the Textile Card PDFs below is only a small selection of available fabrics.  If you do not see something you like please call and we can find something to meet your needs.
If ordering multiple items Please Call for a quote.
Pricing Breakdown
Scarlet Collection - Grade 1
| Sale | Quick | Item Number | Description | Size (WxDxH) | Price |
| --- | --- | --- | --- | --- | --- |
| | | 6301 | Chair | 38" x 33" x 35" | $1,515.00 |
| | | 6302 | Loveseat | 59" x 33" x 35" | $1,997.00 |
| | | 6303 | Sofa | 81" x 33" x 35" | $2,498.00 |
Scarlet Collection - Grade 2
| Sale | Quick | Item Number | Description | Size (WxDxH) | Price |
| --- | --- | --- | --- | --- | --- |
| | | 6301 | Chair | 38" x 33" x 35" | $1,681.00 |
| | | 6302 | Loveseat | 59" x 33" x 35" | $2,203.00 |
| | | 6303 | Sofa | 81" x 33" x 35" | $2,752.00 |
Scarlet Collection - Grade 3
| Sale | Quick | Item Number | Description | Size (WxDxH) | Price |
| --- | --- | --- | --- | --- | --- |
| | | 6301 | Chair | 38" x 33" x 35" | $1,829.00 |
| | | 6302 | Loveseat | 59" x 33" x 35" | $2,378.00 |
| | | 6303 | Sofa | 81" x 33" x 35" | $2,977.00 |
Scarlet Collection - Grade 4
| Sale | Quick | Item Number | Description | Size (WxDxH) | Price |
| --- | --- | --- | --- | --- | --- |
| | | 6301 | Chair | 38" x 33" x 35" | $1,922.00 |
| | | 6302 | Loveseat | 59" x 33" x 35" | $2,471.00 |
| | | 6303 | Sofa | 81" x 33" x 35" | $3,110.00 |